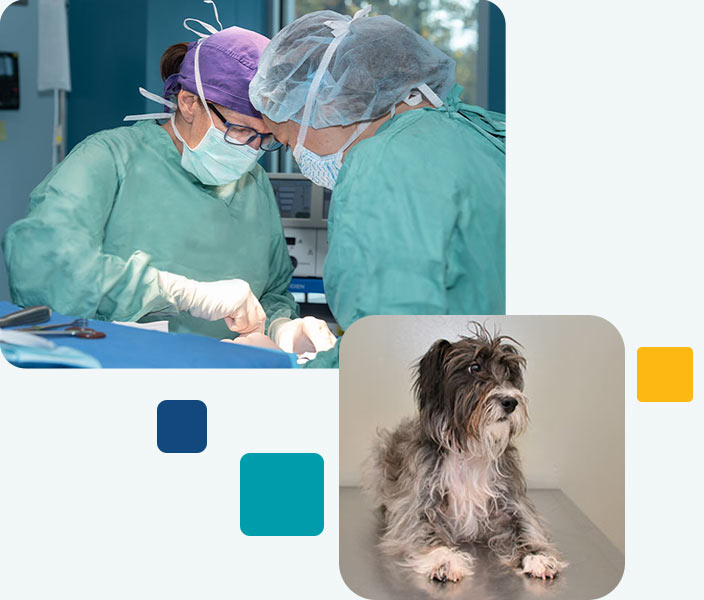 Neurologic surgery addresses diseases and defects of the spinal cord and brain. Our surgical specialists have many years of experience performing neurologic surgeries such as hemilaminectomy, ventral slot, dorsal laminectomy, Atlanto-axial subluxation repair and spinal fractures. We offer surgical correction for patients who have lost mobility due to intervertebral disk disease (IVDD) or who suffer from symptoms of spinal tumors. We are able to provide advanced diagnostics such as computed tomography (CT), and magnetic resonance imaging (MRI). Together, we will review options for your pet's neurologic surgery and review the surgical plan, including outcomes, potential risks and follow-up care. Our focus is on the improved mobility and quality of life for your pet. Please note that onsite MRI is available in the Towson and Annapolis locations only.
Your pet will receive 24-hour veterinary care and may receive in-house rehabilitation therapy from our rehabilitation team at CVSS.  This will provide an optimum environment for your pet to recover and regain any loss of mobility.
We perform many types of Neurologic Surgery procedures, including:
Cauda Equina Instability
Wobblers Disease
Our surgeons are specialists who have received extensive training after veterinary school and are referred to as "Diplomates of the American College of Veterinary Surgeons" (abbreviated DACVS or DACVS-SA [Small Animal]) or "board-certified veterinary surgeons".  Our Board-Certified Veterinary Surgeons have experience and training in advanced surgical procedures.  Read more about our Board-Certified Veterinary Surgeons.
For more information about preparing for your pet's surgery, please review our Guidelines to Help Prepare for Your Pet's Surgery.